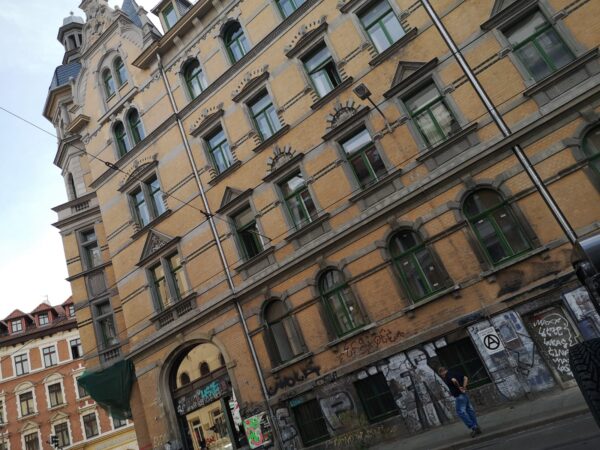 Hey all! Luke here- I'm a new member of the GS1 community and thought I'd take some time to write about my experience thus far.
I've lived in Leipzig since 2018, and although I have some experience with co operative structures and organisations, I've never been part of a housing cooperative before. Housing co ops and intentional communities are relatively rare in the UK, especially on the size and scale of the GS1. This has partially something to do with differing housing styles- in the UK, even in cities, the majority of people live in individual 'family' houses, rather than flats in large apartment blocks. For me, the GS1 is not only architecturally huge but, with 40+ members, also interpersonally and organizationally so. It was quite hard for me to get my head around to begin with, and I'm still trying to remember everyone's names. ( Which is still going to take a while, by the way…)
The second thing you have to get used to is … work! I always knew house projects were a time and energy commitment but it's another thing to experience it. The GS1 is still in the renovation phase, with the last flats currently being worked on, so it is an energy intense period. It has however been much more intense before, and it's crazy to realize just how much work, time and love people have poured into this building and community. Many members are now understandably tired, from years of physical and mental investment, and occasionally people need to take a step back and have a well deserved break. I feel like knowing your limits and finding a balance between work, life and house responsibilities is an important skill to learn going into a house project!
Being a new member, at least in this phase, you get to learn a lot of new things-sanding wooden floors, drilling massive holes in walls, installing internet cables, scraping paint off of window frames, and thats just the Baustelle. Once every two weeks there is a general meeting and working group meetings where various tasks are allotted and issues raised and discussed. Sometimes these meetings are quick (rarley)! Sometimes they are long and difficult, as the group tries to reach consensus where possible, and casts votes where not. But this is also a skill that I, and everyone in the house is learning – how to live and work together.
It also became obvious very quickly the extent to which corona has had an influence on the house, with so much having to happen through zoom meetings, which I personally find quite difficult. The pandemic has made clear to me how important in-person communication is for general well-being, morale, and conflict resolution in self organised groups. When everything is happening over webcams and chats, it's easy for small misunderstandings to spiral into significant interpersonal problems, especially when people are under pressure. Now that we're moving towards the summer months however, much more can happen in person, and with all of the apartments soon to be finished, I think (I hope!) people will have more time and energy for social events.
Although I've emphasized the work aspect of Intentional Communities, I also want to make clear what a huge benefit they can be, beyond affordable rent and nice apartments without landlords. Dozens of people collectively looking out for each other, sharing knowledge and information, teaching each other, sharing equipment and resources. Your bikes broken? There are people and equipment to help fix it. Confused about taxes? There are people who understand it. Learning a new language? Someone in the house probably speaks it! Or maybe you're just feeling down? Then there is nearly always someone to talk to….Oh and if you need a beer, the house has a bar (Azadi, which is open for everyone by the way!)
In an age where people are increasingly isolated, physically and mentally, House projects offer a radical alternative, and a small step towards building a society and a world we actually want to live in. I feel incredibly grateful for being accepted into the fold by the GS1 community, and I can't wait to see how it develops and what we can build together!